No longer is it necessary to use a pillow, stray coat, or jacket to slow down and stop your cars.
With the Official Royal Racers Stop pad, your cars are cushioned underneath a 3" piece of very dense yet soft foam attached to the custom designed housing. The housing is removable from the end of the track for easy and safe storage.
Our stop pads have been designed to leave each car undamaged as it slows and stops.
There is also an overlapping cleat, so in essense the stop pad slides and locks in place.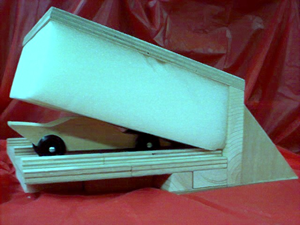 Please note that a smaller cross-section of track was used for the purposes of this example.